Read the Chevron Project Environmental Impact Report

Click here to download the full EIR or sections
Important EIR Date
Friday May 2, 5:00pm
This is the close of the 45-day comment period for the Draft EIR. The final EIR must respond to all questions raised within the comment period.
Please send your EIR comments and questions to Lina Velasco, City of Richmond Planning Division, 450 Civic Center Plaza, PO Box 4046, Richmond, CA 94804, or via email to Lina_Velasco@ci.richmond.ca.us.
Misinformation from Chevron Canvassers
by Daniel Goodwin
Open Letter to Chevron
To info@RichmondProud.com:

I'm a longtime homeowner, here in Richmond. On Monday afternoon, a canvasser wearing a Richmond Proud t-shirt and distributing cards bearing your email address introduced himself by saying he's working for FieldWorks "under a joint contract from the City of Richmond and Chevron" to educate voters about the refinery modernization project.
It seems unlikely that the City would be co-sponsoring a Chevron canvasser, so I immediately pressed him on this joint-contract claim: "You mean the City of Richmond is financially supporting this?"
"That's what they told us," the canvasser replied. This wasn't an offhand claim: it was the first thing he said, and he clarified that he was told to say it.

On Monday evening, I emailed inquiries about this to you, and to Lina Velasco, Senior Planner with the City of Richmond Planning Division. I've heard nothing back from you, but Velasco's response was quite prompt and informative: "The City of Richmond is not sponsoring Richmond Proud. I have followed up with Chevron and have asked them to investigate this issue so that misinformation is not being given."

The Richmond Proud website says "Almost everyone we've talked to has underscored the importance of sharing all the refinery modernization facts... All questions and comments are welcome." But the City is concerned about Chevron spreading "misinformation," not facts, and you ignore my questions.

Mike Parker, the mayoral candidate on the Team Richmond slate, has asked me to post an account of this incident online. So this is an open letter, and you have another chance to either answer or ignore my questions. Surely the canvassing firm Chevron hired knows with whom they signed a contract. Why would they deliberately mislead voters about this, on Chevron's behalf?
-Daniel
Appeal to Richmond Residents
Have you experienced similar encounters with Chevron's Richmond Proud or 4Richmond neighborhood or telephone canvassers? Please don't get frustrated with the canvassers; they're bright young folks just trying to make a living, and someday they'll be on our side. You can help by sharing your story with your neighbors. Call us at 510-412-2260 or write to RPAActivist@gmail.com to tell us about it.
Update on Crude-by-Rail in Richmond
Stop! In the Name of Life
by Patsy Byers
Richmond and neighboring East Bay communities are acting to halt the dangerous rail transport of fracked Bakken and other crude oils. Two approaches were implemented this week: Council resolutions calling for Federal regulation and a lawsuit demanding environmental review. Both tactics say: Stop shipments until safety is adequately addressed.
First, on Tuesday, March 27, the Richmond City Council unanimously adopted a resolution, introduced by Mayor Gayle McLaughlin, calling on Congress to halt the movement of crude oil by rail until it develops effective safety regulations. The Mayor's resolution [click here for the full text] was augmented by a friendly amendment from Tom Butt, instructing staff to research the feasibility of a moratorium on tanker trucks carrying crude on Richmond city streets.
The same night, Berkeley City Council passed a similar resolution opposing a plan to transport crude through West Berkeley, along the tracks used by Amtrak's Capitol Corridor and coastal passenger trains.
The lawsuit, filed March 28 by Earthjustice, seeks to immediately stop crude-by-rail into Richmond until the project withstands a "full and transparent review" under the California Environmental Quality Act (CEQA). Brought on behalf of Communities for a Better Environment (CBE), the Asian Pacific Environmental Network (APEN), the Sierra Club, and the Natural Resources Defense Council (NRDC), the complaint and injunction are directed against Kinder Morgan, the transporter and rail yard leaser, and the Bay Area Air Quality Management District (BAAQMD), whose staff issued permits without public notice or environmental and health review.
Sandy Saeteurn, an APEN organizer in Richmond, said: "The idea of trains carrying explosive Bakken crude oil in and out of our neighborhoods is outrageous. It's like BAAQMD just pulled the pin off a bomb, allowing it to roll all around town, knowing it's only a matter of time before it stops ticking, and explodes on all of us."
Tuesday's Richmond vote was preceded by a presentation on the dangers of crude-by-rail, given by oil industry analyst and author Antonia Juhasz, who contributed significantly to getting full council support. In response to skepticism about the value of the Mayor's proposed resolution, she replied: "It wouldn't just be an exercise. It would be a community - that's actually experiencing it - saying to the Federal government: You need to actually start regulating, and we're a community that's demanding that you do that, adding to the cacophony of voices that are making that demand."
See the Daily Show on Fracking and Chevron's solution to accidents.
Community and Council Pressure on
"Maximum" vs "Average"
Mitchell Rescinds
Controversial Memo
Planning director Richard Mitchell has withdrawn his ruling that maximum building height really means the average height of all the buildings in the project. Since every building counts the same, the ruling would mean that "maximum" height of 35 ft in medium density residential areas would actually allow four small 15 ft buildings and a 115 ft building with a massive footprint.
Although apparently Mitchell made this ruling to benefit a specific development, community members argued that this would affect all of Richmond. Community members tried to appeal Mitchell's ruling but were told there could not be an appeal except for the Council to overturn the memo. The community members led by Kathryn Dienst, a retired urban planner, circulated well reasoned documents about how Mitchell's interpretation would destroy or muddle many critical areas of the general plan.
Vice-Mayor Jovanka Beckles put an item calling for overruling the memo on the Council agenda. Shortly after that Richard Mitchell issued a letter saying that the memo was withdrawn and that the issue would be dealt with in another fashion more specific to the area of the initial project although this might involve an amendment to the General Plan.
Connect the Dots April 12
Opportunity to Join In after the REJC Community Training
Earth Day 2013
After the REJC community training on Saturday April 12, stretch your legs and join up with other activists on the Connect the Dots: Refinery Corridor Healing Walk. Organized by Idle No More SF Bay, the Sunflower Alliance, and others, this walk is the first of 4 planned monthly through July to bring attention to the northeast San Francisco Bay refinery corridor and the 5 refineries in 4 cities.
The first walk, of approximately 15 miles, will begin with a rally at 9:00 a.m. at the Pittsburg Marina Park. The public is invited to join the walk at any point along the way for any amount of time. To join the walk as it is taking place, call 510-619-8279 for a location.
To join at 5pm, and walk the last few blocks, meet at the Contra Costa County Superior Courthouse at 725 Court St./Main in Martinez.
The Ending Rally will be held at the end of Ferry St. in Martinez Waterfront Park, 5:30-6pm. Participants will be encouraged to imagine our communities beyond fossil fuel, take part in an art project, and picnic together.
The other walks are planned for: Martinez to Benicia - Saturday, May 17
Benicia to Rodeo - Saturday, June 14
Rodeo to Richmond - Saturday, July 12
Click here for more information, and some walking tips.
Enjoy yourself even more, bring something to the picnic, and arrange a carpool from St. Luke's UMC to Martinez!
Sugar Kills! How Do We Decrease Consumption?
by Jeff Ritterman, MD
That was the question 12 of us pondered for three hours. We were from the public health, medical, research, academic, advertising and philanthropic communities and had come together to brainstorm.
Each of us was convinced by the accumulating science that sugar was bad, really bad. A change in our thinking had occurred. The old paradigm was that sugar could be bad if you didn't burn off the excess calories. You would become fat, and being fat would make you prone to a host of medical illnesses like diabetes, and heart disease.
We now know that consumption of sugar can kill by causing heart attacks, diabetes, high blood pressure, and cancer. Sugar has also been implicated in fatty liver disease, obesity and dementia. You don't need to get fat to be adversely impacted. Forty per cent of normal weight individuals are metabolically abnormal and at risk. Sugar can kill without us being forewarned by the accumulation of fat around our waistlines.
This is a major paradigm change, in essence, a scientific revolution. I spent thirty years working as a cardiologist without ever once wondering what impact sugar had on the heart. I wasn't alone in that.
How do we prevent the future deluge of chronic diseases? What are the best strategies for lowering sugar consumption? What models are there to learn from?
Our group came up with an impressive list of strategies to reduce sugar consumption.
Why the Minimum Wage is Good for Richmond
by Vice-Mayor Jovanka Beckles
The first reading of the new minimum wage ordinance passed at the City Council March 18. The final vote is scheduled for the meeting tomorrow, April 1. The ordinance will phase in a minimum wage of $12.30/hr. [See article below.]
Richmond is attempting to solve several issues at the same time. One, we are helping residents by providing a wage that will help more families live with dignity. Two, we are helping businesses. When residents have more to spend, more disposable income, they spend it. When they spend it, demand increases. When demand increases, business improves; businesses thrive. When business improves and thrive, more people get hired. When those who want to work work, we create a healthy thriving city.
Minimum wage increases have been shown to act as a stimulus to those cities where it was raised. A recent article in the San Jose Mercury stated, "A year later, it is clear that raising San Jose's minimum wage has been an incredible success. The data shows that under San Jose's minimum wage, unemployment was reduced, the number of businesses grew, the number of minimum wage jobs expanded, average employee hours remained constant and the economy was stimulated."
In fact, I know several Richmond employers who already pay their employees at least $12 an hour and they are quite successful. They shared with me that when employees make a wage that they can live on, turn over is low thus allowing for stability in their business.
There are some who say Richmond isn't in a bubble. We can't just raise it in Richmond and not have it affect businesses negatively because people can shop in the nearby cities. We are not in a bubble. But when other cities see the difference that it makes here in Richmond, the people will demand change in their cities as well.
FDR once said, "The test of our progress is not whether we add to the abundance of those who have much. It is whether we provide enough to those who have little." - Franklin D. Roosevelt
Saffron Strands Fifth Annual Homeless Workforce Conference
Skills, Jobs, Careers as Paths Out of Poverty
Saffron Strand's 2014 Conference, June 16-17 at the Richmond Memorial Auditorium, is a call to action: Overcome poverty and homelessness by empowering the long-term unemployed, hard-to-employ, and homeless to re-enter the workforce.
This action requires specialized training for professionals, case workers, and others in employment services as well as health care and housing services. It also requires increased knowledge and new perspectives among community leaders, local businesses, agency directors, and elected officials. "Let's Get Serious: Skills, Jobs, Careers as Paths Out of Homelessness and Poverty" answers these urgent needs.
Saffron Strand's 5th Fifth Annual Homeless Workforce Conference features Dr. Ira Wolfe, nationally-acclaimed consultant and author of The Perfect Labor Storm. As the opening keynote speaker on Monday, June 16, Dr. Wolfe speaks on "Caught in the Perfect Labor Storm: The Homeless, Hard-to-Employ, and Long-Term Unemployed."
Saffron Strand's Annual Homeless Workforce Conference is the only forum nationwide to answer the critical question: How do we help the homeless - and those at risk of homelessness - to get back to work and increase their economic independence?
Click here for more information.
Click here for the conference preview and list of workshops.
Saturday, April 19, 10am - 2pm
Grand Opening of Point Molate Beach Park
Point Molate Beach Park
BeyondChron comments on "Oil-Backed Race Baiting"
Chevron Provides "Community News" to Richmond
Funded By Chevron
by Randy Shaw
BeyondChron, San Francisco's popular online daily, took note of Chevron's role in shaping the news here in Richmond.
As many get their news from local websites like BeyondChron, Chevron has gotten into the act: its Richmond Standard provides "community news" to Richmond.... from the oil company's perspective.
If you come across the website for the Richmond Standard, you'll find stories about local coffee shops, a skateboarding vandal, the performance of the local high school basketball team, and what's playing in local theaters. It looks very much like sites like Berkeleyside with one key difference: it is funded and controlled by a powerful corporation whose political donations seek to dominate Richmond politics.
The site states on its front page: "This news website is brought to you by Chevron Richmond. We aim to provide Richmond residents with important information about what's going on in the community, and to provide a voice for Chevron Richmond on civic issues."
What "important information" is Chevron conveying?
4500 Page Chevron Report Released
Paid Supporters Welcome EIR at Council
By Mike Parker
The crowd at Tuesday's Council meeting was remarkable.
Most of the crowd was apparently paid to attend. Several in attendance reported that Building Trades members -most of whom do not live in Richmond-- were paid. A group of Richmond residents who were wearing the pro-Chevron shirts said they worked for Chevron. When asked where they work within the refinery, they explained that they were hired by Chevron to do door-to-door work.
The action was clearly jointly organized by the Building Trades and Chevron's PR firm Whitehurst-Mosher, whose Richmond operatives were also wearing the Chevron shirts.
The main spokespersons for the building trades were very careful to say the right and reasonable things: It is the job of the city to examine the Environmental Impact Report carefully.
But the main message of the paid supporters was that the 4500-page report, just released, "was perfect," as one said. There were thunderous denunciations of the city council for supposedly having stopped the project two years earlier and threats to make sure it would not happen again.
Council Acts
Raising the Minimum Wage $12.30/hr
By Patsy Byers
Our effort to boost the minimum wage took a big step forward Tuesday March 18th, when the Richmond City Council voted 6-1 for $12.30/hr, to be phased in by 2017. Mayor McLaughlin, who co-sponsored the initial resolution with Vice Mayor Beckles and Councilmember Myrick, moved to accelerate the process from a November ballot initiative to a council vote, saying: "Why not sooner rather than later?" The measure still must pass a second reading next month.
City staff and advisers developed a plan to limit the raise to no more than 20%/yr, consistent with research that showed this incremental change does not adversely impact the number of jobs. Businesses with less than 10 employees will be exempted, as will some summer job and training programs. After reaching the $12.30/hr rate, an annual cost of living raise would follow. The chair of Richmond's Chamber of Commerce, Michael Davenport, said his organization recognized the need for a wage increase.
Kudos to all those who called, emailed, held signs, spoke to the Council, and - yes - applauded in support.
While the wage increase will undoubtedly help the lowest paid workers, their families, and the local economy, it is still well below the current Living Wage for an adult working full-time supporting a family. [Click here for MIT study.] Richmond is part of a regional economy and getting too far ahead of the surrounding area could end up damaging city efforts. But by passing this measure Richmond is leading the way and encouraging the surrounding cities to move ahead and hopefully start a "virtuous cycle" or a race to a true living wage for our residents.
Not in Our Back Yards (or Anyone's)
More on Deadly Trains in Richmond
Oil Train in Lac-Mégantic
photo: Montreal Gazette
By Patsy Byers
You read it here first, if you read the RPA Activist #131 (3/5/14): "Deadly Trains in Richmond." After this newsletter broke the story, other Bay Area television, internet, and print media have added detail: Mile long 100-car trains loaded with crude oil are rolling in to Richmond. In mid-March, KPIX showed video of the crude at Richmond's BNSF rail yards (leased by Kinder Morgan) being transferred from rail cars to tanker trucks for the drive to a local refinery. (In this case it was Tesoro in Martinez.) We don't know the type or source of the crude: Canadian tar sands or fracked Bakken shale? Commercial confidentiality agreements trump the public's need to know that information.
The rapidly rising quantities of crude crossing the state by rail prompted joint hearings on emergency response to rail accidents by the California Senate's Environmental Quality and Natural Resources and Water Committees on Wednesday. They revealed that our state is woefully ill-prepared to cope with possible accidents. Local firefighters and emergency responders lack the numbers, training, equipment, and other resources to be effective in the event of a raging crude fire, explosion or spill. California's current reserve for clean-up of inland oil spills stands at a whopping $13,000. The true public costs to support private profits are staggering.
RPA Statement
We Applaud Applause
RPA Steering Committee 3/23/14
We believe that members of the public at political events like city council meetings should be able to express agreement with speakers through applause. We are proud that the RPA has attracted increased attendance and participation at city council meetings. We believe that the decisions that the Council makes are important and that citizen involvement in these issues is crucial.
One reason that city council meetings take longer now is because the Council is more open, so people come to the Council with their issues. It is true that in cities that are run by powerful interests where the residents feel shut out, the meetings usually proceed more smoothly and with fewer surprises. Democracy takes a bit longer and may be bumpy, but it is the far superior system. If applause could in fact be prohibited, the only way that people attending council meetings could express themselves would be by signing up to speak. This would take much longer than the few extra seconds for applause when people finish speaking.
We believe that Councilman Butt is mistaken in trying to prevent applause. Googling "clapping, applause, and city councils" show only that attempts by city councils to limit applause cause still greater controversy and generate rules that are often ignored and violated.
Applause is normally positive. As such, it is different from acts of disrespect and verbal disruption. Disrespect and disrutption should not be tolerated at council meetings, especially not when someone is speaking at odds with the majority sentiment of the Council or those present in the Council Chambers.
As a community-based organization, the RPA strongly disagrees with a current practice in which special interest groups pay money to persons to attend city council meetings to effect a pretense of citizen support. We find this practice disrespectful to Richmond and a mockery of the democratic process.
Planning Commission to Consider
LED Advertising Signs in Richmond?
Proposed LED Sign
132 ft tall
By Marilyn Langlois, Richmond Planning Commissioner
Richmond's Planning Department staff are currently working on a proposed modification in the sign ordinance to allow for LED advertising signs with changing images under certain circumstances. The proposal will first be presented to the Planning Commission to make a recommendation to the City Council, possibly at the May 1 Planning Commission meeting. We'll keep you informed if this date changes.
After participating on an ad hoc committee of Planning Commissioners and Design Review Board members, I continue to have serious concerns about the advisability of allowing LED signs in Richmond. It would set us down a slippery slope of ever-increasing and constantly changing garish visual images advertising mostly products for big corporations.
These types of LED signs are extremely distracting to drivers. They are designed to try and keep drivers' eyes looking at them and their contents for a longer period of time than stationary signs, and that's what the advertisers want too. I want drivers focusing their attention on the road.
The proposed ordinance changes would allow for large, billboard sized LED signs at major shopping areas such as Hilltop and Macdonald/I-80, after going through the DRB and getting a conditional use permit from the Planning Commission. Depending on design requirements these could be either horizontal (what the advertising companies prefer) or vertical (as recommended by DRB member Mike Woldemar). Another provision would allow for sign companies like Clear Channel and CBE Outdoors to get a permit for LED billboards at major shopping areas if they agree to permanently remove some of their other stationary billboards in other parts of Richmond.
There is currently a somewhat smaller LED sign with changing images at Pacific East Mall, which was installed during a time when such signs were allowed only after following a specific approval process (including noticing the neighbors and vetting through DRB), In that case, the required process was not followed, however, and the legality of that sign has been questioned. Since then, the ordinance was modified to prohibit LED signs.
The big sign companies are garnering support from businesses at Hilltop with the promise of erecting a big sign to advertise the Mall free of charge, but at what price? I doubt people will be any more likely to go to Hilltop Mall if LED signs are introduced there. A big billboard with changing images will draw attention to the various products advertised on those LED images, and not to the stationary listing of businesses affixed to part of the sign. Besides, there are other reasons why Hilltop businesses are struggling. Could it be that the presence of Walmart has caused many of them to fold, as has happened in other cities? Why doesn't Walmart (one of the world's wealthiest corporations) pay to erect a visible, attractive stationary sign that lists all of its Hilltop neighbors?
If the proposed ordinance is adopted, what if Hilltop businesses still don't do any better after the LED sign is in place? We'd be stuck with the constantly changing advertising slide show there and most elsewhere in the city.
Update on Richmond Housing Authority Issues
by Mayor Gayle McLaughlin
The City of Richmond has the responsibility to provide clean, quality housing in all our Public Housing Agency facilities. In some of our public housing areas we have clearly failed.
What to do
Solve the most immediate problems now.
The Housing Authority is now doing this, reaching out to each unit to resolve current and past problems. Staff is compiling the data on these unit by unit inspections and repair and remediation efforts to present to the Board of Commissioners at our special meeting tomorrow, Wednesday, at 6:30 pm in the City Council Chambers.
Determine the future of Hacienda.
Meeting at Hacienda to hear residents
photo: Eduardo Martinez
The main question at this point in time is whether to renovate or demolish this aging building. This decision must be based on the clear-cut needs of our tenant residents for quality housing and also based on how quickly we can force HUD to pay for the right solution. I have demanded that HUD complete the paperwork process and provide a timeline in writing so that we can convey to residents what they can expect.
A large number of our public housing residents, especially in Hacienda, are individuals with disabilities, many in wheelchairs. This is an issue of disability rights along with an issue of quality housing rights in general, which is why we call on HUD to prioritize the needs of Hacienda.
Determine the root cause of the problems.
I have initiated and the Housing Authority Board has passed a directive to staff to begin the process of identifying an independent management auditor. After this audit is completed, we can consider the question of what changes need to occur in our Housing Authority management and management procedures.
We do our public housing residents a disservice if we get sidetracked into a bloodletting session rather than going after the real problems. We expect our staff to treat our residents with full respect and dignity. Likewise we treat our staff. We do not decide to call for terminating staff based on rumors or even public outcry. We take all complaints about staff extremely seriously and look fully into all complaints, but that is the starting point for an investigation where the staff member also has an opportunity to explain.
I am taking responsibility for assuring things continue to move forward without delay on all levels of review and action in regard to these Housing Authority issues. Like so many other public housing facilities nationwide, Richmond facilities have been neglected by HUD for too long, amid Congressional budget cuts to HUD that have left cities with great challenges. Things are coming to a head nationwide. It is up to us to make it 100 percent clear to HUD and our elected Congressional representatives that our public housing residents are tired of waiting.
Please join me at the special meeting we are having tomorrow, Wednesday 3/12, at 6:30 pm., at which we will analyze the data from recent unit-to-unit inspections and determine next steps we need to take on behalf of our residents' health and well-being.
Connecting the Dots
The Richmond Housing Authority Crisis and the Big Picture
By Vice Mayor Jovanka Beckles
There has been a great deal of attention directed toward Richmond's Housing Authority after recent negative media coverage alleging gross mismanagement. Although there have been challenges to the truthfulness and questions about the accuracy in the reporting, what we know for certain is that real harm was done, and we must take the health and wellbeing of our residents as seriously as we do our own.
The residents of our public housing deserve that much respect and action on our part at a minimum. To ensure sustainable solutions, it is critical to find the systemic underlying causes and to make both the short and long term changes necessary. Although it is premature to say what the ultimate outcome will be, I support the full independent investigation that Richmond Mayor and Housing Authority Board Chair, Gayle McLaughlin has called for.
I appreciate the independent press and I support the right of the people to know what is going on. I also recognize that reporting outrageous acts of mismanagement, deplorable living conditions and finger pointing make for good press, but there is a bigger picture and another story that is not being told. That story is one of income inequality, historic and systemic oppression, poverty, racism, classism and the politics of economics that contribute to the resulting problems. Because the full truth is complex and neither sensational nor simple, that story does not fit neatly into a sound bite that tugs at heart strings or elicits indignant gasps.
Local governments all over the country are being asked to do more with less, and are then held accountable for all the things can and do go wrong. Of course, we and they must take some responsibility, but under the circumstances, some of the responsibility must also be fairly shared and things must ultimately shift. As income inequality has dramatically increased, we have witnessed the systematic shredding of the social safety net. There are constant cut backs in funds, often resulting in the cut backs in staff and lowered morale for the staff in place. This results in far reaching systemic problems. These are the real and concrete consequences of the austerity measures national and state governments have been promoting and enacting. When an agency is working with limited resources, where there is not enough to cover basic needs, it is fertile ground for discontent, low morale, corruption and incompetence. Not many competent people want to stay at a job they are expected to do but can't do well for lack of resources. This does not in any way excuse the alleged rude or disrespectful treatment of residents; on the contrary. Neither does it justify unresponsive department action. But unless we start dealing with the underlying issue of poverty, finding people jobs, and rebuilding the safety net, there is no real or lasting solution. All other efforts are simply band aids and cosmetics.
One of the many reasons that I am promoting a fair living wage is to make a local attempt to begin to decrease the ever widening disparity faced by workers - in this case those who may happen to be public housing residents, as well those who provide any number of services to the residents, and of course all other workers. Everyone deserves a chance at a decent life and a decent place to live. I also believe that given a choice, workers prefer to work with integrity. The current economy does not support living wages that provide a sufficient income to many individuals to make a living and afford market rate housing. As long as income disparity remains egregiously high, people will struggle with housing and there will be public housing. As long as there is public housing, we the stewards of the public funds, must be vigilant in ensuring that it is responsibly and respectfully managed.
The City Council alone cannot remedy the larger issue of national economic disparity and income inequality. Fortunately, organized communities can and are fighting for justice and equity in these areas. I stand with my colleagues and the community in the belief that government works for and with the people. I welcome ongoing dialogue on this issue and look forward to discovering what more will be revealed. I will continue to initiate and support public policies for appropriate and necessary action for the good of the residents of Richmond.
This article first appeared in the Feb. 22 San Francisco BayView National Black Newspaper.
100-Car Trains
Bakkan Crude Rolling to Richmond
BNSF explains how it is bringing Bakken Crude to Richmond
The kind of deadly trains that have been exploding around North America (see next) are also rolling through Richmond. Kinder Morgan a chemical transport company quietly converted its Richmond Facility from ethanol to crude oil storage in September last year. [click here for source] KM boasts that it is currently the only 100-car unit train crude oil facility in California.
At this time we do not know whether the storage is for export, supplying Chevron, or some other customer.
Packed Meeting
Richmond Hears About Oil Train Disaster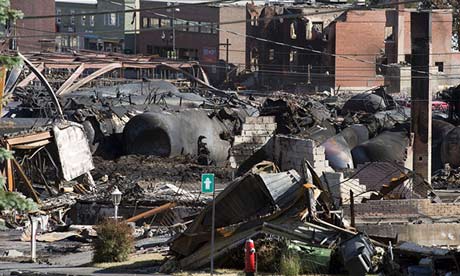 Ruined Lac-Mégantic Downtown
A spokesperson from the Canadian City that was devastated by the exploding Oil train showed a packed meeting at the Bobby Bowens Center the before-and-after to her town Lac-Mégantic, Québec. The accident destroyed the downtown and killed 47 people She explained how the first thing fixed in the town were the rail tracks so the railroad could continue shipping product.

Speaking with her was Antonia Juhasz, an oil industry expert. Antonia explained there have been more accidents in the last year than in the last 20 years. This is the result of a combination of the huge increase in shipping by rail combined with the increased volatility and danger of fracked oil. Juhasz pointed out that the US National Transportation Safety Board says the US is virtually incapable of regulating the movement of crude-by-rail, and where feasible,these trains should be rerouted to avoid "populated and other sensitive areas." It is thus unthinkable that companies like Chevron, Valero, and WesPac want to introduce crude-by-rail of Bakken and other sources to our area. We should instead support this proclamation, reduce our consumption of fossil fuels, and reject such increasingly hazardous sources of energy.
Bullying the Free Press
Pulitzer Cartoonist Sued by Chevron
Donny Rico & Chevron make it a crime to defend the environment. Chevron didn't like this so they sent Donny Rico after the cartoonist.
Using the RICO (Racketeer Influenced and Corrupt Organizations) laws against mob activity, Chevron is actually suing Pulitzer Prize Winning Cartoonist Mark Fiore  for "loss of goodwill and reputational damage. "  Fiore, former staff cartoonist for the SJ Mercury, satirized Chevron's use of the RICO laws to attack the victims of the massive Ecuador pollution.
Click on the video to see what Chevron is suing over.
Check out Amazonwatch.org  that first displayed the video. Sign the Petition.
Mike Parker enters the race for Mayor; Mayor Gayle McLaughlin, Vice Mayor Jovanka Beckles, and Planning Commissioner Eduardo Martinez to run for City Council seats
Team of Candidates for Richmond 2014 City Council will continue decade of progress under Mayor McLaughlin
February 13, 2014 – Richmond, CA
"Richmond is Better Now; Let's Build on a Decade of Progress" is the theme promoted by a progressive team of candidates for Richmond City Council, announced today.
Mayor Gayle McLaughlin (limited by City Charter to two consecutive terms as Mayor) will run for a City Council seat, along with Vice Mayor Jovanka Beckles, and Planning Commissioner Eduardo Martinez.  Mike Parker will seek the office of Mayor.
Nicknamed, "Team Richmond," the four candidates are united in their commitment to continue and expand Richmond's remarkable transformation during a decade of progressive policies spearheaded by McLaughlin.  The team is also dedicated to standing strong for Richmond residents in the City's dealings with the Chevron Corporation, demanding safety, transparency and accountability from the oil giant as plans are negotiated for major repairs and a renewal project for the Chevron Richmond Refinery.
The four candidates support a modernization of the refinery so that the devastating explosion of August 6, 2012, never happens again.  The team calls for:  repairs and renovations that will take place soon to ensure community safety; a project that will provide jobs for Richmond residents; and a significant and measurable annual reduction of the pollution emitted from the refinery.
Long characterized by poverty, homicide, and industrial pollution, Richmond began a grassroots renaissance with McLaughlin's election to the City Council in 2004.  Since then, policies and initiatives focused on sustainable growth, community health, income equity, and clean energy have gained Richmond national attention as a city willing to adopt bold and innovative solutions to chronic problems.
Mayor Gayle McLaughlin, now completing her second term as Richmond Mayor, will ask voters to elect her to the City Council.  During her tenure as Mayor, homicide rates have been cut by 66 percent; Lawrence Berkeley National Lab chose Richmond for its second campus; Chevron was pressured into agreeing to a $114 million tax settlement; and the City's community survey shows residents are experiencing increased quality of life and City services.
Mike Parker, an educator and former industrial electrician in the automotive industry, is running for the office of Mayor.  A lead organizer of the Richmond Progressive Alliance, Parker has a long history as an advocate for organized labor, civil rights, and other social justice issues. He is actively involved in efforts to stop foreclosures and reduce blight, and to set a livable minimum wage in Richmond.  Parker, an instructor in an electrical technologies program, serves on the Richmond Workforce Investment Board and has sought ways to provide Richmond residents with training for higher-skilled jobs.
Vice Mayor Jovanka Beckles will seek a second term on the City Council.  She has led the City's initiative to fight crime and violence by productively integrating residents released from incarceration.  Beckles' "Ban the Box" ordinance prevents the City from disregarding applications for City employment because of previous incarceration.  Beckles also introduced the Richmond Municipal Identification Program, strongly supported by Police Chief Magnus as a tool to improve police-community interaction.  She fought discrimination and harassment of LGBT residents in the City Council chambers and elsewhere.
Richmond Planning Commissioner Eduardo Martinez is running for City Council with a campaign sub-theme, "A City for Our Children." A retired local elementary school teacher, Martinez is a long-time advocate for education and was a lead organizer for the March for Education in 2004.   He serves on the board of the East Bay Sanctuary Covenant, an interdenominational organization helping immigrants navigate the immigration process. Martinez ran for City Council in 2012 and fell short of election by only 516 votes.
The four candidates have worked closely together for several years to build "One Richmond, A Better and Healthier Richmond," a unified community of diverse populations, working together on the problems of economic inequality, crime, racism, and pollution. They seek to organize community members to define their city's destiny, countering the outsized influence of corporations, developers, and other entrenched special interests on the democratic process.
To underscore the importance of clean elections that are free of corporate influence, Parker, McLaughlin, Beckles, and Martinez have pledged not to accept any campaign contributions from corporations.  All four candidates will utilize a volunteer campaign team.  Individuals who are interested in volunteering may call:   (510) 709-4433.
An official "kick-off" event for Team Richmond will be scheduled during the summer of 2014 in Richmond.
www.MikeParkerForRichmond.net
www.MayorGayle.net
www.JovankaBeckles.net
www.EduardoMartinez4richmond.net
Twitter: @TeamRichmondCA
Life, Liberty, and Pursuit of Happiness Without a Job?
Martin Luther King on Economic & Social Justice
Martin Luther King on Economic and Social Justice
Is it their Skills, Values, or Money?

Is Chevron Branding Our Schools?

By Michael Beer
Has everybody noticed how Chevron is all over Richmond? It used to be just at the corner gas station. Chevron today is partnered with Safeway, stares from billboards, fills our mail boxes, pops up on our computers, and has a finger in almost every NGO and business in the city.
And now Chevron is flexing its Human Energy into yet another part of our life.
A vibrant school system is the backbone of any community's economic and social prosperity. If Chevron ("your neighbor for 104 years") had really cared, Richmond wouldn't need a "revitalization" initiative, we would have been vitalized a long time ago, and our school system would be the envy of the nation.
Because I taught elementary school for twenty-five years, I know a thing or two and disagree with the way Chevron is skewing our educational establishment, the West Contra Costa Unified School District.
Actually, Chevron never had qualms about using our school children for its own ends.  For example, the school district for several years has held an annual conference "Parents as Partners and Leaders" at DeJean Middle School. Mostly Latino parents attend workshops to become more skilled at helping their children.
The district's department of Community Engagement organizes the event, but sure enough there is Chevron's logo on the program, and Chevron staff handing out tote bags. It's the Chevron Way of grabbing the spotlight in somebody else's event.
Mitchell Throws Out General Plan?
When "Maximum" is not Maximum
The Richmond General Plan 2030, adopted after years of intensive discussion and review, provides among many other things, that the height of buildings in "Medium-Density Residential" areas shall be "Up to 35 ft."
But Shea Homes wants to build a development that includes buildings up to 46 feet in height. In order to accommodate Shea Homes, Planning Director Richard Mitchell has interpreted the General Plan to say that the 35 ft. height limit in Medium-Density Residential areas is really the "average" height of all the buildings in the project. Thus even though over half the buildings in the planned project are at least 46' in height, when averaged with other buildings, the entire project meets the 35' height limit.    
If this interpretation stands there is really no effective height limit on buildings in these areas, potentially making every limit in the General Plan meaningless.
On the good side.  If Richmond lets this interpretation go through then the next time the police stop you from exceeding the speed limit of  35 miles an hour, you can point out that your average speed since you left home (maybe including stops at red lights) was really much less.
This issue will undoubtedly make its way to the Planning Commission and City Council.
Remembering Nelson Mandela
His actions taught us that the fight for freedom and justice is international;
that those who tell us we cannot win against a powerful oppressor serve that oppressor. 
Richmond residents ares proud of our actions to oppose apartheid.
US Chemical Safety Board Hearing in Richmond

Why CSB Postponed Vote on Report    
Chevron Fire
To the surprise of many, the US Chemical Safety Board voted to postpone approving the Staff's report and proposals for up to 120 days. The US Chemical Safety Board (CSB) is the nation's preeminent chemical disaster investigative agency. Its members are all Presidential appointees and confirmed by the US Senate.  
The report had two major findings:
The explosion and fire was due to a pipe rupture, but the pipe ruptured due to a Chevron  management culture of neglect and a pattern of failing to adhere to regulatory agency safety standards or its own safety standards.


The solution to prevent future catastrophic disasters is to have Richmond, Contra Costa County and the State of California adopt the "Safety Case" regime for regulating refineries.
There was no spoken disagreement about the findings of Chevron's negligence and, had it been voted on separately, that part of the report would have certainly passed.
There were two forces for delaying the report. The first included the industry agents who were seeking to delay the report to kill it.  But others, including the two commissioners who voted for the delay, stated that they wished to strengthen the recommendations. In particular they wanted more recommendations for immediate action and ways to deal with the power imbalance that allows oil companies to dominate no matter what regulations are in effect.
In the Newsletter #130 we will print a piece co-written by Mayor McLaughlin and CSB Chairperson Rafael Moure-Eraso that explains why the Board's proposal for "Safety Case Management" is so important and why we can not wait before we take steps to implement its principles.
For more information about the report: www.csb.gov
Get Answers to your Questions
The Richmond CARES program is is a new approach.  The idea is to fight blight and keep our communities stable by keeping people in their homes.  By preventing foreclosures through  restructuring mortgages in line with their present value rather than the inflated values of the bubble, we help all the homeowners in the community. 



With the realtors and Bates/Booze trying to sow confusion there are bound to be questions.
For in-depth understanding of the legal and economic thinking behind this program see the Report by Prof. Robert Hockett for the Seattle City Council. Click here.
Eduardo Martinez Explains Richmond CARES
Here are some other good sources you can get on-line:
New from Jeff Ritterman:
"Heart Attacks, Depression and Suicide: The Toxic Fallout From the Foreclosure Epidemic and a Prevention Strategy That Just Might Work"
Click here for the Huffington Post article