Issues | Environment
Pressure Building on BAAQMD
Revoke Kinder Morgan Crude-by-Rail Richmond Terminal Permit
by Jeff Kilbreth
The more you know about the Bay Area Air Quality Management District (BAAQMD) staff's permitting of Kinder Morgan's shift into storing and distributing rail shipments of North Dakota Bakken crude oil, the more upset you should get. And not surprisingly, some of the issues are similar to ones we saw in the Environmental Impact Report for the Chevron Modernization Project. Simply put, the data used by our regulators is often seriously incomplete and sometimes shockingly biased. It's almost as if they work for Chevron and Kinder Morgan. This is what has to stop. We need to insist on complete, honest and conservative data—our health and safety is at stake. Fortunately, pressure is now building on the BAAQMD Board to set higher standards for staff work and to revoke the flawed Kinder Morgan permit.
Here's a simplified summary of what happened with BAAQMD and Kinder Morgan
September 2013 – Mile-long 100-car trains start bringing Bakken crude to Richmond. The vapor pressure in these cars is roughly ten times greater than the pressure in cars bringing ethanol which was the previously permitted activity. Emissions are greater, both in the transfer to storage and in the transportation through the community. And risk of explosion is also greater. Permit is under development but not issued yet.
February 2014 – Final permit issued by BAAQMD staff without any public review. Permit asserts that total emissions for the crude oil activity will be the same as for the ethanol activity. Emissions were estimated using an EPA default value for conventional crude oil volatility (pressure) even though it is well known that Bakken crude is at least twice as volatile. Source emission data collected in November and December 2013 was incomplete and generally exceeded permit levels. Data was not incorporated into the permit file.
Health risk analysis was incomplete and biased. The top cancer risk associated with the transport of crude oil is benzene. The BAAQMD's staff analysis showed an increase of 4 cases of cancer per million for the project whereas the likely increase is well over 40 per million. Organic hydrocarbon emissions (ROGs) will similarly be at least ten times greater than the previous emissions. No analysis of the impact of increases in other toxic air contaminants was done.
The permitting of this conversion was done without any transparency, and the analysis performed was shoddy and unacceptable. It was also illegal. The increases in benzene and organic hydrocarbons are far greater than the significance thresholds set by BAAQMD for CEQA review.
For the next three to six months, the two most important environmental battles for everyone in Richmond are getting this permit revoked and ensuring that continuous improvement is baked into the new refinery emission regulations that are under development. Forcing actual emissions reduction over the next ten years will create jobs and actually improve our health - more on this soon.
Public pressure may help move BAAQMD to revoke the permit. Email Jack Broadbent, BAAQMD Executive Officer, and John Gioia, Contra Costa County Supervisor and BAAQMD Director.
DeSmogBlog Report on Federal Court Order
Explosive DOT-111 Bomb Train Oil Tank Cars Can Continue to Roll
by Steve Horn
A U.S. federal court has ordered a halt in proceedings until May in a case centering around oil-by-rail tankers pitting the Sierra Club and ForestEthics against the U.S. Department of Transportation (DOT). As a result, potentially explosive DOT-111 oil tank cars, dubbed "bomb trains" by activists, can continue to roll through towns and cities across the U.S. indefinitely.  
"The briefing schedule previously established by the court is vacated," wrote Chris Goelz, a mediator for the U.S. Court of Appeals for the Ninth Circuit. "This appeal is stayed until May 12, 2015, or pending publication in the Federal Register of the final tank car standards and phase out of DOT-111 tank cars, whichever occurs first."
Filing its initial petition for review on December 2, the Sierra Club/ForestEthics lawsuit had barely gotten off the ground before being delayed.
Letter to the City Council
Hazardous Pet Coke Transported through Richmond in Open Rail Cars
by Karen Juster Hecht
Over the last few months I have learned that pet coke is being transported in open rail cars through Richmond. It is apparently being gathered from the area refineries and shipped to China from the Levin Richmond terminal and the Sims Metal facility. Disturbingly, China has been burning this material, which is banned in the U.S.—obviously a major health hazard worldwide.
At these facilities, prior to shipment, these huge piles of pet coke sit waiting to be loaded, totally uncovered. It is a shocking sight to encounter the enormous piles and to see the huge transports of open rail cars, loaded to overflowing, traveling within yards of Marina Bay and other residences. The black pet coke dust, of course, travels from these piles into our homes and businesses... and into our lungs.
Pet coke dust is a health hazard and is being regulated in many areas, including Chicago.
I have seen some of these transports and it is alarming—long strings of rail cars of mounded pet coke traveling immediately adjacent to housing throughout Richmond.
I would hope that there wouldn't be any question of Richmond acting swiftly and decisively to prohibit the transport of pet coke in open rail cars through our city and to prohibit these huge open piles. I understand that there is a balance between residential and business concerns, however, with these unrestricted conveyances of pet coke, to the detriment of the health and well being of Richmond residents, it seems the balance is out of alignment and needs to be readjusted by the City. Additionally, and of huge concern, if this isn't regulated, it will take a terrible toll on Richmond residential property values (which will of course then affect the City's tax revenues).
Richmond resident Karen Juster Hecht, who works in Richmond as a family law attorney, wrote this letter to the Richmond City Council, and agreed to share it on this website.
Opposition to Kinder Morgan's Permit
School Board Wary of Crude-by-Rail
Wednesday evening, 12/3, the WCCUSD Board unanimously passed a resolution calling on the Bay Area Air Quality Management District (BAAQMD) to reconsider its permit to Kinder Morgan for crude-by-rail shipments coming into Richmond. Andrés Soto of Communities for a Better Environment brought the resolution to the Board. The Richmond City Council passed a similar measure in October, and as a result, City Manager Bill Lindsay sent a letter to BAAQMD making a case for reconsideration, review, and revocation of the permit.
This recent incident may have helped persuade the Trustees: On Friday, a rail car derailed off BNSF tracks near the Richmond Parkway, where Pennsylvania Avenue ends near Peres Elementary School. A reader submitted the photo above to the Richmond Standard (Chevron's PR organ), which ran a story on Wednesday. Other media coverage was woefully scant.
City Council Urges BAAQMD to Stop Crude-by-Rail
Richmond's 107,000 are in Danger
At its last meeting before the election, October 28th, Richmond City Council unanimously* passed a resolution calling on the Bay Area Air Quality Management District (BAAQMD) to "review" and "if feasible, revoke" the permit given to Kinder Morgan to bring in crude oil by rail through Richmond. The resolution also instructs the City Attorney to research and report back on options for restricting the use of tanker trucks carrying Bakken crude oil through city streets. A sobering Richmond Confidential report by Phil James notes "If you go to the website explosive-crude-by-rail.org and zoom in on Richmond, what you'll find is disconcerting. According to the 1-3 mile buffer zone on the map, the entire city and its 107,000 residents are in danger if trains carrying crude oil explode."
* Councilmembers Bates and Boozé were absent for the vote although present for the meeting, having left the chamber.
See Nick Despota's article on the Sunflower Alliance website for more information.
Bakken Crude with One-Man Crews
Working on the Railroad
Retired Union Pacific conductor Brian Lewis,
interviewed by Steve Early (excerpt)
Fortunately, the federal government stepped in and put the brakes on the trend toward using remote control locomotives operating out of sight. But we still went from crews of four to three, then three to two, and now one-man crews in some places. In that runaway oil-train derailment and disaster in Lac-Megantic last year, we saw how well that works. That engineer could not do a proper securement of the train alone. You need an engineer and a second person, a qualified conductor, to get out and set the brakes before testing whether the train moves.
Bakken crude oil is pretty damn volatile. But, with a lot more of it to transport in the last year or so, the oil industry just dictated to the railroads: 'Find us some more cars!' So the railroads went out and grabbed any kind of tank cars they could find, including older equipment not designed to load and carry volatile materials... Some oil train cars today are not even up to standard in terms of their wheels, brakes, and springs. It's scary—you need to have the right equipment and more trains, not giant trains a mile and a half long. And they certainly shouldn't be allowed to operate, now or in the future, with one-man crews.
Reducing Greenhouse Gases Not Profitable Enough
Chevron Divests from Renewables
Although "Chevron executives frequently touted the division's clean-energy work in speeches and in testimony before Congress," it seems the profits of Chevron Energy Solutions were not high enough for the fossil fuels fossil.
Sept. 4 Action at Kinder Morgan Rail Yards
Protesting Crude-by-Rail in Richmond
According to Andrés Soto: On Thursday Sept. 4, the leased Kinder Morgan rail yards in Richmond were the site of a lock-down action, designed to stop the movement of explosive Bakken crude from unsafe DOT 111 rail cars to waiting tanker trucks and then out onto Richmond streets. The Kinder Morgan facility is right across the street from two elementary schools, residences, and businesses in the Iron Triangle and Pt. Richmond.
This action was also designed to highlight the issues involved in the upcoming hearing for the lawsuit against Kinder Morgan and the Bay Area Air Quality Management District (BAAQMD) filed by Earthjustice on behalf of Communities for a Better Environment, Asian Pacific Environmental Network, Natural Resources Defense Council, and the Sierra Club. The suit argued that BAAQMD had issued the permit for crude without any notice to the public or environmental, safety and health review, in violation of CEQA (the California Environmental Quality Act).
At the hearing on Friday afternoon, the judge dismissed the suit on a technicality, finding the filing untimely with his choice to rely on a 2013 permit date, thereby making it outside the statute of limitations. Here's what Earthjustice attorney Suma Peesapati had to say:
This is just how the agencies and industry wins—hide the information, make the change under the cover of night, and hope people don't notice while the clock winds down on any hope to stop these dangerous and callous developments. That's no way to treat your communities or the public. Now the people of Richmond have to live with the air district's decision to hide the change from the public and not address any of the harms. What's worse is this emboldens other companies to do the same thing and hide their switch to crude oil."
Here is a detailed and dramatic first person account from another of the participants at Thursday's action:
"We arrived at 7am, prepared to climb over a fence with ladders we had brought --only to discover a strategically located hole we could crawl through. Eight people quickly locked themselves to four different spots on the chain link fence, blocking trucks from passing through the gate. Four protestors used bicycle U-locks around their necks, and each of them had a partner, with their arms connected within a tube. There was a support person for each of the four teams, as well as a worker liaison who talked to some of the truck drivers and Kinder Morgan employees, a police liaison who talked with the police and reported back to the teams, and a legal observer there to watch how the police treated the protestors. Several media people were also on the property. At least half of us were in our sixties. All of us were subject to possible arrest.
"We were encouraged by the STOP sign on the fence that read: "Kinder Morgan You can stop!"
"The Richmond police officers arrived first. They were, as usual, a delight to work with, but they soon explained that they do not have jurisdiction, and that 15 feet on either side of railroad tracks is under federal jurisdiction."
For more information on how to get involved, call Andrés Soto, 510-237-6866, or email andres@cbecal.org.
Movement Generation's Newest Satirical Video, Released 6/24
The Greenest Man in America
In case you missed the standing-room only World Premiere at the Bobby Bowens Progressive Center last week, here's your chance to see it any time you like:
In the words of Josh Healey, who wrote and is one of the stars of the video: "And if you do like it... please share it around!... Feel free to have fun with it!"
The event last week kicked off summer activities to build the Our Power Campaign, in support of the fight against extreme energy and towards a just transition to sustainable economies and climate jobs. On August 6-9, the second anniversary of the Chevron refinery fire, Richmond will host the Our Power Campaign national gathering. Watch for more info soon.
Make a Call & Send Email by 4/28 for Clean Green Energy Options
Protect Our Communities' Power to Choose
by Gayle McLaughlin
As we celebrate Earth Day this week, we in Richmond can feel proud of the positive steps our community has taken to support clean, sustainable policies that improve our lives and health.
Among our many achievements was the implementation in 2013 of "Community Choice Aggregation" (CCA), a plan that enabled Richmond residents to choose cleaner sources of electricity through the Marin Clean Energy (MCE) program. I applaud Councilmember Tom Butt's leadership in bringing this program to Richmond, and his ongoing advocacy as the Council's MCE representative.
This important program enables cities like Richmond to promote local decision-making and provide consumer energy choice. Through our CCA, our residents choose renewable energy sources that help achieve local environmental goals and greenhouse gas reduction targets.
One essential element to the CCA plan's success is the "opt-out" feature. This means that all residents are included in the clean energy program unless they specifically choose to "opt out." Every other CCA state in the country uses an opt-out process for electricity aggregation.
Assembly Bill (AB) 2145, the "Monopoly Protection Bill," would severely limit CCAs in California. If passed, it will require individuals within an area to "opt-in" vs. "opt-out" of the program. AB 2145 is pro-monopoly and protects the status quo by returning market power to shareholder-controlled utilities.
AB 2145 is being considered in Sacramento on Monday, April 28, by the Assembly Utilities and Commerce Committee. Please join me, Vice-Mayor Jovanka Beckles, Councilmember Tom Butt, and many others* in voicing your opposition to AB 2145. Contact Committee Chair Steven Bradford (c/o his staffer davina.flemings@asm.ca.gov, phone 916-319-2062) and let him know that you support consumer choice, local decision-making, and clean energy.
The positive transformation of Richmond has been built on collaborative efforts among City officials, community-based organizations, and individuals to define our own destiny, to make healthy choices that serve our community, not the needs of utility monopolies.
On Earth Day and every day, let us celebrate the advances we've achieved together, defend our progress, and recommit ourselves to building not only a Better Richmond, but a cleaner state and a healthy planet.
*Organizations opposing AB 2145 include the California State Association of Counties, League of California Cities, Sierra Club CA, World Wildlife Fund US, Greenlining Institute, California Solar Energy Industries Association, the Center for Climate Protection, Local Clean Energy Alliance, and Green Cities CA.
Update on Crude-by-Rail in Richmond
Stop! In the Name of Life
by Patsy Byers
Richmond and neighboring East Bay communities are acting to halt the dangerous rail transport of fracked Bakken and other crude oils. Two approaches were implemented this week: Council resolutions calling for Federal regulation and a lawsuit demanding environmental review. Both tactics say: Stop shipments until safety is adequately addressed.
First, on Tuesday, March 27, the Richmond City Council unanimously adopted a resolution, introduced by Mayor Gayle McLaughlin, calling on Congress to halt the movement of crude oil by rail until it develops effective safety regulations. The Mayor's resolution [click here for the full text] was augmented by a friendly amendment from Tom Butt, instructing staff to research the feasibility of a moratorium on tanker trucks carrying crude on Richmond city streets.
The same night, Berkeley City Council passed a similar resolution opposing a plan to transport crude through West Berkeley, along the tracks used by Amtrak's Capitol Corridor and coastal passenger trains.
The lawsuit, filed March 28 by Earthjustice, seeks to immediately stop crude-by-rail into Richmond until the project withstands a "full and transparent review" under the California Environmental Quality Act (CEQA). Brought on behalf of Communities for a Better Environment (CBE), the Asian Pacific Environmental Network (APEN), the Sierra Club, and the Natural Resources Defense Council (NRDC), the complaint and injunction are directed against Kinder Morgan, the transporter and rail yard leaser, and the Bay Area Air Quality Management District (BAAQMD), whose staff issued permits without public notice or environmental and health review.
Sandy Saeteurn, an APEN organizer in Richmond, said: "The idea of trains carrying explosive Bakken crude oil in and out of our neighborhoods is outrageous. It's like BAAQMD just pulled the pin off a bomb, allowing it to roll all around town, knowing it's only a matter of time before it stops ticking, and explodes on all of us."
Tuesday's Richmond vote was preceded by a presentation on the dangers of crude-by-rail, given by oil industry analyst and author Antonia Juhasz, who contributed significantly to getting full council support. In response to skepticism about the value of the Mayor's proposed resolution, she replied: "It wouldn't just be an exercise. It would be a community - that's actually experiencing it - saying to the Federal government: You need to actually start regulating, and we're a community that's demanding that you do that, adding to the cacophony of voices that are making that demand."
See the Daily Show on Fracking and Chevron's solution to accidents.
Not in Our Back Yards (or Anyone's)
More on Deadly Trains in Richmond
By Patsy Byers
You read it here first, if you read the RPA Activist #131 (3/5/14): "Deadly Trains in Richmond." After this newsletter broke the story, other Bay Area television, internet, and print media have added detail: Mile long 100-car trains loaded with crude oil are rolling in to Richmond. In mid-March, KPIX showed video of the crude at Richmond's BNSF rail yards (leased by Kinder Morgan) being transferred from rail cars to tanker trucks for the drive to a local refinery. (In this case it was Tesoro in Martinez.) We don't know the type or source of the crude: Canadian tar sands or fracked Bakken shale? Commercial confidentiality agreements trump the public's need to know that information.
The rapidly rising quantities of crude crossing the state by rail prompted joint hearings on emergency response to rail accidents by the California Senate's Environmental Quality and Natural Resources and Water Committees on Wednesday. They revealed that our state is woefully ill-prepared to cope with possible accidents. Local firefighters and emergency responders lack the numbers, training, equipment, and other resources to be effective in the event of a raging crude fire, explosion or spill. California's current reserve for clean-up of inland oil spills stands at a whopping $13,000. The true public costs to support private profits are staggering.
Earlier, the Activist noted that Kinder Morgan, the largest pipeline company in the U.S. and a huge chemical transporter, had quietly converted its Richmond facility from ethanol to crude oil. This conversion and the off-loading operation rely on permits issued (in September and February) by the Bay Area Air Quality Management District (BAAQMD). It undertook these actions without requiring updated Environmental Impact Reports (EIRs) or any public hearings. Richmond organizer Andres Soto from Communities for a Better Environment says that CBE's legal staff and Earth Justice's staff are currently researching that decision and working to develop a strategy to address the "rolling bombs."
Richmond already pays a heavy price for its involvement with crude, and the communities closest to the tracks and at greatest risk are among those already most severely impacted: Atchinson Village, the Iron Triangle, and North Richmond. We also need to think about those farther back the line, in other cities, with old bridges, and in rural areas where emergency response would certainly be slow and inadequate.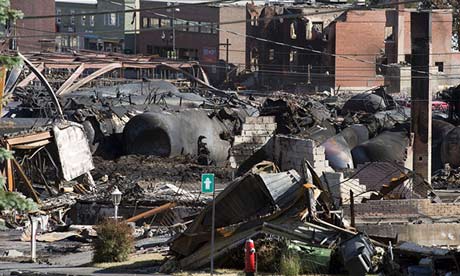 Ruined Lac-Mégantic Downtown
And remember those who live along or drive on the highways, or ride the Capitol Corridor, and those all the way back to North Dakota or Alberta or wherever it is, who live where both sides of the tracks are now, clearly, wrong.
The KPIX anchor scoffed at Richmond's claim that it couldn't regulate what came in to the rail yard here, but, in fact, rail transport is controlled at the federal level. However, we can make our position clear; we can fight for more responsible choices from the agencies charged with protecting our health and environment; and we can promote a vision of a fossil fuel free future and work to bring it to fruition.
On Tuesday March 25, Mayor Gayle McLaughlin has scheduled a study session where oil industry analyst and investigative reporter Antonia Juhasz will give a presentation on the dangers of transporting crude oil by rail, followed by the introduction of a resolution calling on Richmond staff "to draft a letter to our congressional delegation calling on them to take steps to halt the movement of crude oil in the US by rail until this mode of transport is fully regulated such that the health, welfare, and safety of people and the environment are protected." [Click this link to read the Resolution in its entirety.]
100-Car Trains
Bakkan Crude Rolling to Richmond
BNSF explains how it is bringing Bakken Crude to Richmond
The kind of deadly trains that have been exploding around North America (see next) are also rolling through Richmond. Kinder Morgan a chemical transport company quietly converted its Richmond Facility from ethanol to crude oil storage in September last year. [click here for source] KM boasts that it is currently the only 100-car unit train crude oil facility in California.
At this time we do not know whether the storage is for export, supplying Chevron, or some other customer.
Packed Meeting
Richmond Hears About Oil Train Disaster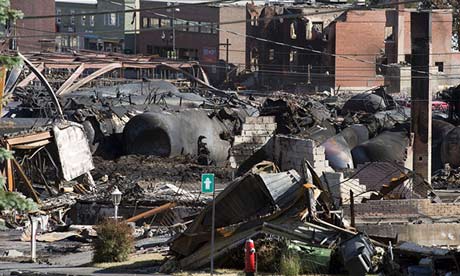 Ruined Lac-Mégantic Downtown

A spokesperson from the Canadian City that was devastated by the exploding Oil train showed a packed meeting at the Bobby Bowens Center the before-and-after to her town Lac-Mégantic, Québec. The accident destroyed the downtown and killed 47 people She explained how the first thing fixed in the town were the rail tracks so the railroad could continue shipping product.

Speaking with her was Antonia Juhasz, an oil industry expert. Antonia explained there have been more accidents in the last year than in the last 20 years. This is the result of a combination of the huge increase in shipping by rail combined with the increased volatility and danger of fracked oil. Juhasz pointed out that the US National Transportation Safety Board says the US is virtually incapable of regulating the movement of crude-by-rail, and where feasible,these trains should be rerouted to avoid "populated and other sensitive areas." It is thus unthinkable that companies like Chevron, Valero, and WesPac want to introduce crude-by-rail of Bakken and other sources to our area. We should instead support this proclamation, reduce our consumption of fossil fuels, and reject such increasingly hazardous sources of energy.


Mayor Gayle McLaughlin and Jovanka Beckles awarded a proclamation to Marilaine Savard representing the committee in Lac-Mégantic that is trying to keep these trains from ever again going through their town or any populated area.
Proclamation expressing solidarity with the City of
Lac-Mégantic, Québec
WHEREAS, in the early morning of July 6, 2013, a train carrying fracked crude Bakken oil from North Dakota derailed and exploded in Lac-Mégantic, a small town in Québec, Canada; and
WHEREAS, 47 people were killed and the downtown destroyed when this highly flammable and volatile crude exploded, causing a massive fire; and
WHEREAS, the community of Lac-Magentic has suffered greatly from this tragedy and is still recovering from this deadly crash; and
WHEREAS, to avoid more such tragedies, Lac-Magentic citizen groups are calling on authorities to move forward with a promised detour of the track, expressing grave concerns about an effort afoot to resume moving the same crude trains through the same downtown; and
WHEREAS, Lac-Mégantic Mayor Colette Roy-Laroche has sent a strong message expressing the community's wish for a rerouting of the tracks and should be commended for her stance; and
WHEREAS, in our own city of Richmond, on August 3, 2012, there were 15,000 people who were treated at local hospitals as a result of a disastrous fire and explosion at the Chevron Richmond Refinery; and
WHEREAS, the community of Richmond has suffered the impacts of many crude oil disasters, the August 3 fire being just one of several incidents in recent years, and as a result the City of Richmond has sued Chevron seeking to avoid all future incidents; and
WHEREAS, it has been reported that Chevron would like to start moving fracked Bakken oil by rail to it's Richmond Refinery; and
WHEREAS, The US National Transportation Safety Board has recently concluded the following:
"Oil spill response planning requirements for rail transportation and oil/petroleum products are practically nonexistent compared with other modes of transportation;" and
"That because conditions have significantly changed with the recent massive growth in crude oil transportation, the regulations are no longer sufficient to mitigate the risks of petroleum product releases in accidents;" and
"Current regulations do not require railroads transporting crude oil in multiple tank cars to develop comprehensive spill response plans and have resources on standby for response to worst-case discharges;" and the NTBS therefore recommends: "where technically feasible... require rerouting [of trains] to avoid transportation of such hazardous materials through populated and other sensitive areas;" and
WHEREAS, these disasters in Lac-Mégantic and in Richmond are not only horrific tragedies, but also corporate crimes; and
WHEREAS, we owe it to all the people who have suffered and died to assign broad culpability by addressing the greed, deregulation and an extreme energy rush and willingness on the part of companies to gamble with human life and the environment; and
THEREFORE, BE IT RESOLVED that we. Mayor Gayle McLaughlin and Vice-Mayor Jovanka Beckles, on behalf of the City of Richmond, do hereby express our heartfelt sadness and solidarity with the hard-hit community of Lac-Mégantic, Québec, for their enormous losses of life and property; and
BE IT FURTHER RESOLVED that we support the urgent call to respect the people of Lac-Mégantic and not allow crude-by-rail trains through the middle of their city; and
BE IT FURTHER RESOLVED that at least and until the governments of the US and Canada fully ensure their ability to fully regulate the movement of crude by rail, such that the health, welfare, and safety of people and the environment are protected, such practices be halted; and
BE IT FINALLY RESOLVED that we demand full accountability from all private oil and train companies who operate in Lac-Mégantic, Richmond and everywhere and call for a change in their corporate culture such that they put the health and safety of our communities and our environment ahead of their own profits and expediency.
Gayle McLaughlin, Mayor, City of Richmond
Jovanka Beckles, Vice-Mayor, City of Richmond
March 1, 2014
Richmond Shoreline Advisory Group:
Radioactive Material on Richmond Shoreline
By Tarnel Abbott
Radioactive materials at the prior Blair Landfill, some with 100-times higher than background levels at/along the SF Bay Trail South 51st Street Access Path, have been confirmed by State regulators.
The Department of Toxic Substances Control regulators have known about samples confirming radioactive material for more than three years. Last week's, Richmond Southeast Shoreline Area Community Advisory Group (RSSA CAG) monthly meeting was the first time the public heard a first-hand description of partial site conditions.
Radioactive materials confirmed in the surface soil and below surface soil include bismuth-214, lead-212, radium-226, thorium-228, thorium-232, uranium-233, uranium-235 and uranium-238." From an open letter by Jefferson Award winner Sherry Padgett.
The likely source of the radioactive material is the former Stauffer Chemical or Stauffer Metals, which had multiple secret military contracts in the 1950s and 1960s.  Zeneca, a multinational corporation, became the responsible party when they obtained the property.
The all-volunteer RSSA CAG which was formed 10 years ago, urged immediate posting of warning signs and wider testing until the scope of the contamination can be determined.  The public has a right to know what sort of hazards they may encounter, and while the levels may be minor for a healthy individual, the hazard of exposure to children, pregnant women and people with compromised health is unclear.   The scientific community is agreed that there is no safe dose of radiation, which accumulates in the body.  Environmental activists from around the state have challenged DTSC's lackadaisical handling of toxic sites and their lack of enforcement. A public hearing in Sacramento on December 16 is scheduled to address these concerns. (See next issue for more information on hearing.)   
Click here for more information.
11/28/13
North Shore Development?
While the discussion of the General Plan is supposed to be about zoning the whole area, debate at Tuesday's Council meeting will likely focus on two parcels, marked on the map as Freethy and Murray. Here are the reasons why I oppose commercial development of the North Richmond Shoreline
The Richmond Core
Richmond suffers from the legacy of development determined by the greed of speculators and developers only interested in the quickest buck and who, in the past, found a receptive and pliable political leadership. The Hilltop project helped gut our core commercial areas.
In response, Richmond has adopted a strategy of redeveloping its core areas, restoring them to vitality and thereby, attracting investment and development that will benefit all of our residents, especially those who have been most heavily impacted by unemployment, drugs and crime.
Development on the North Shoreline is a loser because it will divert scarce investment resources from the core, increase the GHG footprint and will stretch already thin governmental infrastructure, public safety and street maintenance resources even further. And development will result in the loss of resources available to us from an ecological and aesthetic point of view that is in easy reach by bicycle and could be a draw for people to visit Richmond from any place reachable by BART, AMTRAK or car.
Ecological
The North Richmond Shoreline is an extremely important natural resource because it provides habitat to a large variety of flora and fauna that make their homes in its sub-tidal (areas always covered with shallow water), tidal marsh and marsh upland/coastal prairie. In addition, the area serves as a "refueling" station for migratory birds using the Pacific Flyway.
The marsh areas are where the tidal/bay, land and air are in constant interchange. Marsh areas are important incubators of all sorts of life, from the flora that anchors it to the bacteria and fungi that feed on the decaying eelgrass and reeds, to the little critters that feed on the bacteria and fungi and in turn supply food for the larger critters that depend on the marsh for that food source and shelter. These are the spawning grounds for commercially and recreationally important species of shell fish, fish and fowl and the feeding way stations for those migratory species.
We can quantify the cost of the loss of habitat on commercially important species. We don't know what the ultimate outcome of the loss of those migratory species would be. But we do know that biological diversity is tremendously important and many scientists suspect that our ultimate survival as a species may depend on the conservation of robust diversity.
Aesthetic
Human beings need beauty in their lives. Study after study has shown the linkages of the outdoor experience to human mental and physical health.
Escape from the built environment and the opportunity to revel in the natural environment, lies just beyond our doorsteps in the North Richmond Shoreline. We have now been granted this opportunity to preserve the shoreline, not because of any grand schemes on the part of environmentalists, but because the area has been abandoned by the same forces that abandoned the core area of Richmond
Open space advocates have been trying preserve the shoreline as well as the bay it surrounds, since the founding of the Save the San Francisco Bay Association in 1961. Today, an offshoot of the Save the San Francisco Bay Association (now known as Save the Bay), Citizens for East Shore Parks, has taken on the task of preserving the Richmond Shore Line.
The North Richmond Shoreline offers marvelous views of both the natural world and the built: sunset over the Bay, the last rays of the sun fading behind Mt. Tam and Mt. Hamilton; a flight of Brown Pelicans, swooping in low over the water to settle in after satisfying themselves on anchovies; the antics of the Coots and Cormorants  in sharp contrast to the refined decorum of an Egret stalking the near shore shallows; the evening fog creeping over the east side of the West Bay hills; tufts of fog, rolling like huge cylinders of fluffy cotton under the Golden Gate Bridge; fog claiming the bridge itself, until just the two suspensions towers poke out of the undulating white mass; and the smell of salt water mingling with  the scent of the Blue Gum Eucalyptus, Bay Laurel and Coastal Sage.
All of this is accessible for the members of Richmond's communities, many of whom may never have the opportunity to jet off to some exotic island locale. Just beyond our doorsteps lies an opportunity for our children to learn about the complex, interconnected web of life and to understand that they are part of it. This is there for the people of Richmond, if we act now to preserve the shoreline.
Sea Level Rise
I think it is imperative that any zoning ordinances, written to guide future development, must take into consideration the implications of sea level rise. First, all coastal environments are dynamic; although the interior of the Bay is relatively sheltered. We got to see drama unfolding on our TV screens, of apartment complexes falling into the Pacific Ocean as the coastal bluffs on which they were built were eroded by storm wave forces hammering the San Mateo Coast in Pacifica. We will not have such high drama. Once the North Shore properties are built on, there will be tremendous pressure exerted on future decision makers in Richmond to preserve the value of those properties and protect them from the encroaching Bay, at tax payers' expense. It is time for this generation to show some responsibility and not bequeath more problems onto our heirs through our short sightedness.
In the consideration of sea level rise, we must take into account, that the three phases of the Bay shoreline environment will move inland and upland. What today is sub-tidal may be too deep to support eel grass and the habitat the eel grass anchors. What today is salt marsh, will be constantly inundated and  become sub-tidal; what today is dry most of the time will become salt marsh; what will be marsh upland areas will be pushed much further upland than what exists today. These three distinct bands represent important, unique, interdependent habitat areas that need to be preserved for the health of the entire ecosystem by allowing enough room in our zoning planning for these changes to take place.
***
I don't say that all shoreline development is improper. I think that large scale development and the infrastructure to support it, is improper. What might be OK? Low cost structures that support recreational use and access to the shoreline. Responsible community agriculture can be conducted on lands that are today dry enough to be tilled and away from sensitive upland habitat areas.
The General Plan is about zoning and must be done cautiously.  Zoning should not be determined for the allowance of a specific project as that sets a precedent for developers to promote anything that fits in that zoning classification. We don't need more Hilltop projects which help gut the core city.  We need to rebuild the city.  For projects, there are large vacant tracts in several places east of the Richmond Parkway. There is a large vacant tract just above the former temporary Richmond City Hall on Marina Way. In fact, the warehouse that used to house city offices is probably available.
Tony Sustak
Richmond Progressive Alliance Treasurer
Member of the Board of Directors of Citizens for East Shore Parks
and it's Expand the Park Committee